CB Simulations is proud to announce that X10 – Belle Glade State Municipal Airport is coming soon.  It is estimated to be released sometime in early to mid 2018.*
X10 is a crop duster base that is located in Belle Glade, Florida, which is a small town located about 3 miles southeast of Lake Okeechobee.  Belle Glade is only a 15 minute plane ride away from West Palm Beach, Florida, which is a great place to fly when you want to take a look at the Atlantic Ocean, Downtown West Palm Beach, and some of the amazing homes along The Intercoastal Waterway and the Beach.
---
Maps and Images:

Location of X10 on a large scale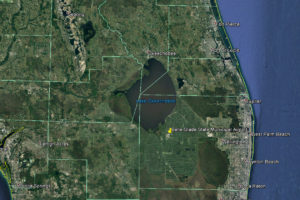 Location of X10 on a large scale
---
Screenshots
**These are only work in progress screenshots.  The final release will be noticeably different.
---
Features:
Black Text = Probable feature – There is no guarantee that it will be included.
Green Text = Guaranteed Feature
High quality, highly detailed objects

3-7 cm/pixel ground imagery for the airport (we are still not certain about the resolution it will be)

Custom static aircraft and crop dusters at the airport

Custom static cars and trucks

Custom home models for the surrounding areas

Custom animated 3D vegetation

Custom modeled road traffic

Accurate runway/taxiway/apron positioning

Clutter etc. to make the airport look more realistic

Dynamic Lighting for Prepar3D v4

Sound effects for traffic and more

Nearby power plant modeled in great detail

Smoke and steam effects for the power plant
---
Compatibility:
CB Simulations products have very low system requirements.
Our system requirements are:
If your PC runs the simulator, it will run our products.**
Supported Simulators
This Product Is Planned To Be Compatible With:
Microsoft Flight Simulator X
Microsoft Flight Simulator X: Steam Edition
Prepar3D v1
Prepar3D v2
Prepar3D v3
Prepar3D v4
---
In Development Product Status
Project progress:
60% Complete.
More information will be released between now and the release date.  Subscribe to the Product Status Updates Forum in the CB Simulations Community to receive notifications when the status of this product is updated.
---
---
---
**For best results, you should have a PC that meets the recommended system requirements for the simulator you are using.
*Note that these release dates are not 100% certain, and are subject to change.  As we get closer to releasing the product, the release dates will become more accurate.